Volvo XC90: Driver support / Lane Keeping Aid display
Lane Keeping Aid (LKA1) uses symbols in the instrument panel for various situations.

Some examples of symbols and descriptions of the situations in which they might appear are provided below.
Available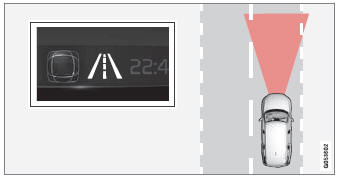 Available ‒ the marker lines in the symbol are WHITE.
Lane Keeping Aid is able to detect one or both of the traffic lane's side marker lines.
Unavailable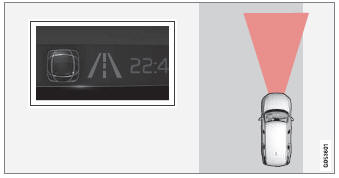 Unavailable ‒ the marker lines in the symbol are GRAY.
Lane Keeping Aid is unable to detect the lane marker lines, the vehicle's speed is too low or the road is too narrow.
Steering/warning indicator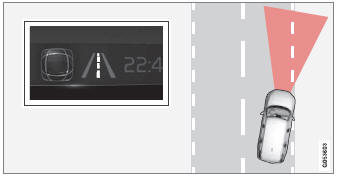 Steering/warning ‒ the marker lines in the symbol are COLORED.
Indicates that the Lane Keeping Aid system is alerting the driver and/or attempting to steer the vehicle back into the lane.
1 Lane Keeping Aid
A number of symbols and messages related to Lane Keeping Aid (LKA1) may be displayed in the instrument panel. Several examples are provided below. A An authorized Volvo workshop is recommended...
City Safety1 can alert the driver with light, sound and pulsations in the brake pedal to help the driver detect pedestrians, cyclists, large animals and vehicles...
Other information:
Trip computer statistics can be displayed graphically in the center display, providing an overview that facilitates more fuel-efficient driving. Open the Driver performance app in the App view to display trip statistics. Each bar in the graph represents a driving distance of 1 kilometers, 10 kilometers or 100 kilometers (or miles)...
Safety mode is a feature that is triggered after a collision if there is potential damage to an important function in the vehicle, such as the fuel lines, sensors for one of the safety systems, the brake system, etc. If the vehicle has been involved in a collision, the text Safety mode See Owner's manual may appear in the instrument panel along with the warning symbol if the panel is undamaged..