Volvo XC90: Driver support / Lane Keeping Aid display
Lane Keeping Aid (LKA1) uses symbols in the instrument panel for various situations.

Some examples of symbols and descriptions of the situations in which they might appear are provided below.
Available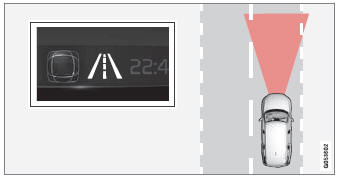 Available ‒ the marker lines in the symbol are WHITE.
Lane Keeping Aid is able to detect one or both of the traffic lane's side marker lines.
Unavailable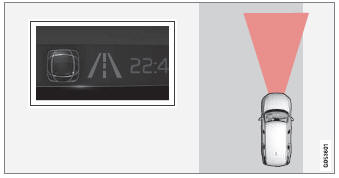 Unavailable ‒ the marker lines in the symbol are GRAY.
Lane Keeping Aid is unable to detect the lane marker lines, the vehicle's speed is too low or the road is too narrow.
Steering/warning indicator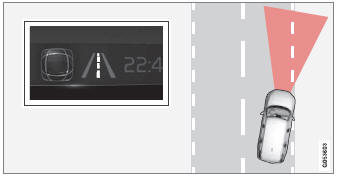 Steering/warning ‒ the marker lines in the symbol are COLORED.
Indicates that the Lane Keeping Aid system is alerting the driver and/or attempting to steer the vehicle back into the lane.
1 Lane Keeping Aid
A number of symbols and messages related to Lane Keeping Aid (LKA1) may be displayed in the instrument panel. Several examples are provided below. A An authorized Volvo workshop is recommended...
City Safety1 can alert the driver with light, sound and pulsations in the brake pedal to help the driver detect pedestrians, cyclists, large animals and vehicles...
Other information:
External audio sources, such as an iPod® or MP3 player, can be connected to the audio system via any of the vehicle's USB ports. If the vehicle has two USB ports, the phone must be connected to the port with the white frame to use Apple CarPlay* or Android Auto*...
(Option/accessory.) Passing assistance can assist the driver when passing other vehicles. The function can be used with Adaptive Cruise Control* or Pilot Assist*. When Adaptive Cruise Control or Pilot Assist is following another vehicle and you indicate that you intend to pass that vehicle by using the turn signal1, the system will begin accelerating toward the vehicle ahead before your vehicle..