Volvo XC90: Maintenance and service / Removing the plastic cover to replace bulbs
The headlight bulbs can be replaced without the assistance of a workshop, but before a bulb can be replaced, the plastic cover over the headlight needs to be removed.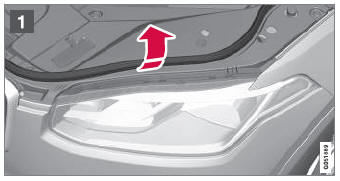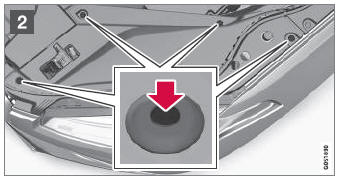 Lift the rubber strip by pressing it inward into the engine compartment.

Release the pins in the plastic cover's four clips by pressing them down with a screwdriver or similar object and remove the covering.
Put the cover back in place in the reverse order.
Bulb types vary depending on model and equipment level. If a light bulb1 breaks, it can be replaced by following the procedure shown in the Owner's Manual...
Most of the bulbs in the headlight housing can be accessed when the rectangular cover is removed. Before the rectangular cover can be removed, the plastic covering over the headlight must be removed...
Other information:
The antennas for the keyless start system and keyless locking system* are integrated in the vehicle. Location of the antennas: Under the cup holder in the front section of the tunnel console In the upper front section of the left-side rear door1 In the upper front section of the right-side rear door1 In the center of the rear seat backrest1 WARNING Individuals with an implanted pacemaker ..
(Option/accessory.) (Depending on market, this function can be either standard or optional.) Pilot Assist can help the driver keep the vehicle in the current traffic lane and maintain an even speed and a set time interval to the vehicle ahead. Get to know Pilot Assist The camera/radar sensor monitors the distance to the vehicle ahead and detects lane markings. Camera and radar sensor Distance..