Volvo XC90: Maintenance and service / Removing the plastic cover to replace bulbs
The headlight bulbs can be replaced without the assistance of a workshop, but before a bulb can be replaced, the plastic cover over the headlight needs to be removed.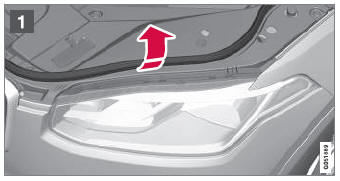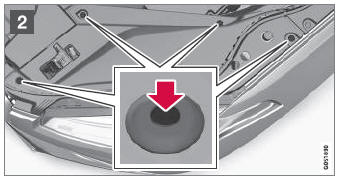 Lift the rubber strip by pressing it inward into the engine compartment.

Release the pins in the plastic cover's four clips by pressing them down with a screwdriver or similar object and remove the covering.
Put the cover back in place in the reverse order.
Bulb types vary depending on model and equipment level. If a light bulb1 breaks, it can be replaced by following the procedure shown in the Owner's Manual...
Most of the bulbs in the headlight housing can be accessed when the rectangular cover is removed. Before the rectangular cover can be removed, the plastic covering over the headlight must be removed...
Other information:
As part of Volvo's commitment to safety and quality, certain information is recorded regarding vehicle operation, functionality and incidents. US market only: EDR This vehicle is equipped with an "Event Data Recorder" (EDR). The main purpose of an EDR is to record, in certain crash or near crash-like situations, such as an air bag deployment or hitting a road obstacle, data that will assist in ..
(Depending on market, this function can be either standard or optional.) Adaptive Cruise Control (ACC1 ) must first be selected and then activated before it can regulate speed and distance. To start the function: The driver's seat belt must be buckled and the driver's door must be closed. There must be a vehicle ahead (target vehicle) within a reasonable distance or your vehicle's current s..