Volvo XC90: Maintenance and service / Removing the plastic cover to replace bulbs
The headlight bulbs can be replaced without the assistance of a workshop, but before a bulb can be replaced, the plastic cover over the headlight needs to be removed.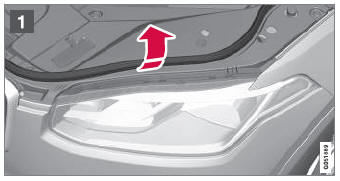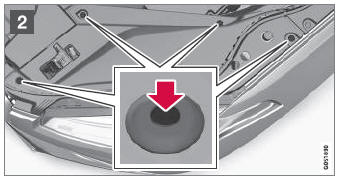 Lift the rubber strip by pressing it inward into the engine compartment.

Release the pins in the plastic cover's four clips by pressing them down with a screwdriver or similar object and remove the covering.
Put the cover back in place in the reverse order.
Bulb types vary depending on model and equipment level. If a light bulb1 breaks, it can be replaced by following the procedure shown in the Owner's Manual...
Most of the bulbs in the headlight housing can be accessed when the rectangular cover is removed. Before the rectangular cover can be removed, the plastic covering over the headlight must be removed...
Other information:
The driver support functions Adaptive Cruise Control* and Pilot Assist* have a special brake function in slow traffic and while stationary. In certain situations, the parking brake will be applied to keep the vehicle at a standstill. Braking function in slow traffic and at a standstill In slow-moving, stop-and-go traffic or when stopped at a traffic light, driving will resume automatically if t..
(Option/accessory.) The function for assisting when driving downhill (HDC1) is a low-speed function with increased engine braking. The function makes it possible to increase or decrease the vehicle's speed on steep downhill gradients by only using the accelerator pedal, without applying the brakes. In vehicles equipped with drive mode control *, the function is included in the Off Road drive mo..