Volvo XC90: Maintenance and service / Removing the rectangular headlight cover
Most of the bulbs in the headlight housing can be accessed when the rectangular cover is removed.
Before the rectangular cover can be removed, the plastic covering over the headlight must be removed.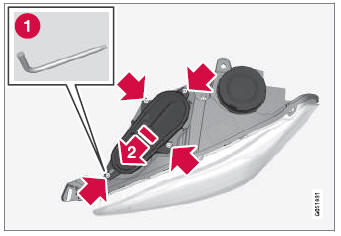 Left headlight.
Undo the four screws of the cover using a Torx tool, dimension T20 (1). Do not undo these completely; 3–4 turns is enough.
Push the cover to the side.
Remove the cover.
Put the cover back in place in the reverse order.
The headlight bulbs can be replaced without the assistance of a workshop, but before a bulb can be replaced, the plastic cover over the headlight needs to be removed...
The vehicle's exterior lighting consists of several different bulbs. LED1 bulbs must be replaced by a workshop. An authorized Volvo workshop is recommended...
Other information:
The cover can be used in two positions: fully open to completely cover the cargo compartment or partially retracted to make it easier to reach further into the cargo compartment. Fully open 7-seat models Hang the third-row seat belt latches in the hooks provided in the side panels...
(Option/accessory) (Depending on market, this function can be either standard or optional.) The following illustrations show how Adaptive Cruise Control (ACC1 ) can appear in the various displays in different situations. Speed Speed indicators Set speed Speed of the vehicle ahead The current speed of your vehicle Time interval Adaptive Cruise Control will only regulate the time interval to ..