Volvo XC90: Maintenance and service / Removing the rectangular headlight cover
Most of the bulbs in the headlight housing can be accessed when the rectangular cover is removed.
Before the rectangular cover can be removed, the plastic covering over the headlight must be removed.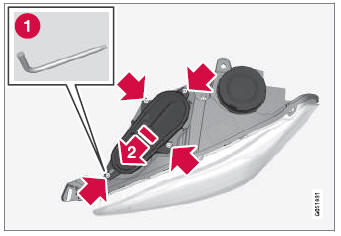 Left headlight.
Undo the four screws of the cover using a Torx tool, dimension T20 (1). Do not undo these completely; 3–4 turns is enough.
Push the cover to the side.
Remove the cover.
Put the cover back in place in the reverse order.
The headlight bulbs can be replaced without the assistance of a workshop, but before a bulb can be replaced, the plastic cover over the headlight needs to be removed...
The vehicle's exterior lighting consists of several different bulbs. LED1 bulbs must be replaced by a workshop. An authorized Volvo workshop is recommended...
Other information:
(Option/accessory.) Turn off leveling control before lifting the vehicle with a jack to help avoid problems with the pneumatic suspension. The vehicle can be lowered or raised to make it easier to load or for passengers to get in and out. Adjusting loading mode Use the buttons in the cargo compartment to raise or lower the rear section of the vehicle to facilitate loading or unloading the vehi..
A Volvo ID can be created in two ways. If your Volvo ID was created with the Volvo On Call app, the Volvo IDmust also be registered to the vehicle to enable access to the Volvo ID services. Creating a Volvo ID with the Volvo ID app Download the Volvo ID app from Download Center in the center display's App view. Start the app and register a personal email address. Follow the instructions th..