Volvo XC90: Safety / Side airbags
The side airbags, on the driver's and passenger sides, protect the chest and hip in a collision.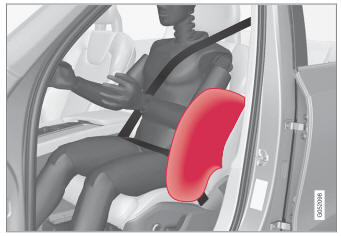 The side airbags are located in the front seats' outer backrest frames and help protect the driver and front seat passenger.
A collision of a sufficiently violent force will trigger the sensors and one or more side airbags will inflate. The side airbags inflate between the seat occupant and the door panel to help cushion the initial impact of the collision. The airbag deflates when compressed by the collision. The side airbags are normally only deployed on the side of the vehicle impacted by the collision.
WARNING
Volvo recommends contacting an authorized Volvo workshop for repairs. Incorrectly performed repairs to the side airbag system could impair function and lead to serious injury.
WARNING
Do not place any objects in the area between the outer edges of the seats and the door panels, as this could impair the function of the side airbags.
Volvo recommends only using seat covers approved by Volvo. Other seat covers could prevent the side airbags from functioning properly.
WARNING
The side airbag is a supplement to the seat belt. Always wear your seat belt.