Volvo XC90: Safety / Side airbags
The side airbags, on the driver's and passenger sides, protect the chest and hip in a collision.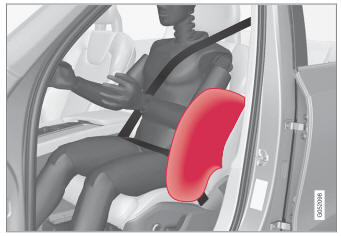 The side airbags are located in the front seats' outer backrest frames and help protect the driver and front seat passenger.
A collision of a sufficiently violent force will trigger the sensors and one or more side airbags will inflate. The side airbags inflate between the seat occupant and the door panel to help cushion the initial impact of the collision. The airbag deflates when compressed by the collision. The side airbags are normally only deployed on the side of the vehicle impacted by the collision.
WARNING
Volvo recommends contacting an authorized Volvo workshop for repairs. Incorrectly performed repairs to the side airbag system could impair function and lead to serious injury.
WARNING
Do not place any objects in the area between the outer edges of the seats and the door panels, as this could impair the function of the side airbags.
Volvo recommends only using seat covers approved by Volvo. Other seat covers could prevent the side airbags from functioning properly.
WARNING
The side airbag is a supplement to the seat belt. Always wear your seat belt.
The Occupant Weight Sensor (OWS) is designed to meet the regulatory requirements of Federal Motor Vehicle Safety Standard (FMVSS) 208 and is designed to disable (will not inflate) the passenger's side front airbag under certain conditions...
The inflatable curtain, Inflatable Curtain (IC), helps to prevent the driver and passengers from striking their heads on the inside of the vehicle during a collision...
Other information:
Symbols and messages for the Park Assist system (PAS1) may be displayed in the instrument panel and/or the center display. Several examples are provided below. A An authorized Volvo workshop is recommended. A text message can be erased by briefly pressing the button in the center of the rightside steering wheel keypad...
Information on vehicles with activated hazard warning flashers or which have detected slippery road conditions is not always communicated between all vehicles in the affected area. This may be the case if: No or insufficient Internet connection. The maneuvers (steering wheel movements, acceleration or braking) made by the vehicles on slippery surfaces are too weak for friction between the t..