Volvo XC90: Safety / Inflatable curtain
The inflatable curtain, Inflatable Curtain (IC), helps to prevent the driver and passengers from striking their heads on the inside of the vehicle during a collision.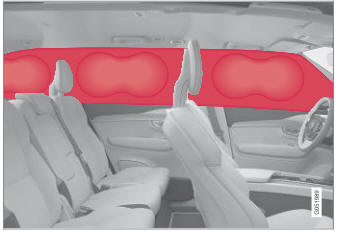 The inflatable curtains are installed along both sides of the inside of the roof and help protect occupants in the vehicle's outer seats. IC AIRBAG is embossed on the panels.
A collision of a sufficiently violent force will trigger the sensors and the inflatable curtain will inflate.
WARNING
Volvo recommends contacting an authorized Volvo workshop for repair. Incorrectly performed repairs to the inflatable curtain system could impair function and lead to serious injury.
WARNING
Never hang or attach heavy objects in the handle in the ceiling. The hooks are only intended for lightweight garments (not for hard objects such as umbrellas).
Never screw or mount anything to the vehicle's headlining, door pillars or side panels. This could impair the intended protective properties. Volvo recommends only using Volvo original parts that are approved for placement in these areas.
WARNING
If objects are loaded higher than the upper edge of the side windows, leave a 10 cm (4 in.) space between the objects and the window. Objects placed closer to this could impede the function of the inflatable curtain concealed inside the headlining.
WARNING
The inflatable curtain is a supplement to the seat belt. Always wear your seat belt.