Volvo XC90: Loading, storage and passenger compartment / Tunnel console
The tunnel console is located between the front seats.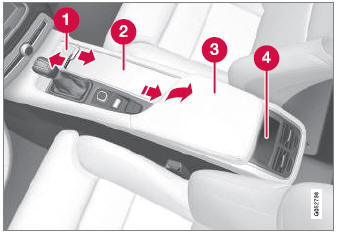 Storage compartment with cover* and 12 V outlet1. Press the handle to open/close the cover.
Storage compartment with cup holder and wireless phone charger*.

Storage compartment and USB port under the armrest.

Climate control panel for the rear seats* or storage compartment. There is also a USB port underneath.
WARNING
Store loose objects, such as cell phone, camera, remote control for extra equipment, etc., in the glove compartment or another compartment. Otherwise, these could injure people in the vehicle in the event of hard braking or a collision.
CAUTION
Keep in mind that glossy surfaces can be easily scratched by e.g. metal objects. Do not place keys, phones or similar items on sensitive surfaces.
NOTE
One of the sensors for the alarm* is located under the cup holder in the center console. Avoid placing coins, keys and other metal objects in the cup holder as this could trigger the alarm.
NOTE
The USB port can be used to e.g. charge a cellular phone or tablet. Only the front USB port can be used to play media through the vehicle's speakers.
1 If the vehicle does not have a wireless phone charger, the 12 V outlet is located in the center storage compartment.
* Option/accessory.