Volvo XC90: Loading, storage and passenger compartment / Using the glove compartment
The glove compartment is located on the passenger side. The glove compartment can be used to store the Owner's Manual, maps, etc. There is also room for a pen and a card holder.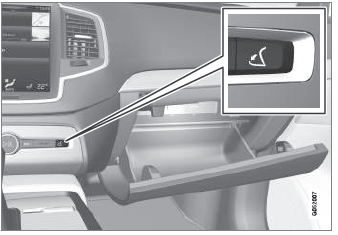 The glove compartment is opened by pressing the opening button in the center console.
Locking and unlocking the glove box
The glove compartment can be locked ("private locking") when the vehicle is left at a workshop, hotel, etc. When private locking is activated, the tailgate is also locked.
Using the glove box as a cooled area*
The glove compartment can be used to cool e.g. drinks or food. Cooling is possible when the climate system is active (i.e. when the ignition is in mode II or when the engine is running).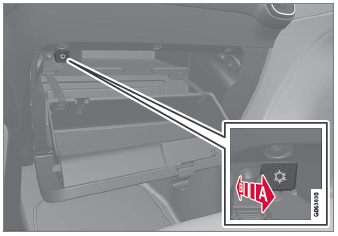 The illustration is generic – the design may vary.
Activate cooling.

Deactivate cooling.
Activate or deactivate cooling by moving the control as far as possible toward the passenger compartment/glove compartment.
* Option/accessory.
The 12 V outlet can be used for devices intended for this such as MP3 players, coolers and cellular phones. The ignition must be in at least mode I for the outlets to supply current...
In the ceiling in front of the driver's and front passenger's seats, there are sun visors that can be lowered and angled to the side as necessary. The illustration is generic – the design may vary...
Other information:
The App view contains apps that provide access to certain vehicle services. Swipe the center display screen from right to left1 to access the App view from the Home view. This view displays downloaded apps (third-party apps) as well as apps for integrated functions, such as FM radio...
The vehicle's exterior lighting consists of several different bulbs. LED1 bulbs must be replaced by a workshop. An authorized Volvo workshop is recommended. Front bulbs (vehicles with halogen headlights) Low beams High beams Daytime running light/parking light Turn signal Front fog light/cornering illumination* (LED) Rear bulbs Brake light (LED) Parking light (LED) Backup light2 Parki..