Volvo XC90: Lighting / Using turn signals
The vehicle's turn signals are controlled using the left-side steering wheel lever. The turn signals flash three times or continuously, depending on how far up or down the lever is moved.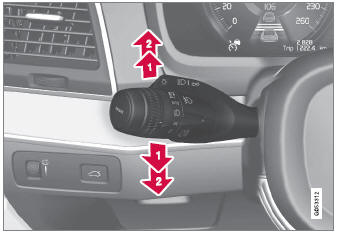 Turn signals.
Triple flash indicator

Move the steering wheel lever up or down to the first position and release. The turn signals will flash three times. If the function is deactivated via the center display, the signals will flash once.
NOTE
This automatic flashing sequence can be interrupted by immediately moving the lever in the opposite direction.
If the turn signal indicator flashes more quickly than normal, refer to the message in the instrument panel.
Continuous flashing sequence

Move the lever up or down as far as possible.
The lever will stop in its end position and can be moved back manually or automatically by moving the steering wheel.