Volvo XC90: Lighting / Using turn signals
The vehicle's turn signals are controlled using the left-side steering wheel lever. The turn signals flash three times or continuously, depending on how far up or down the lever is moved.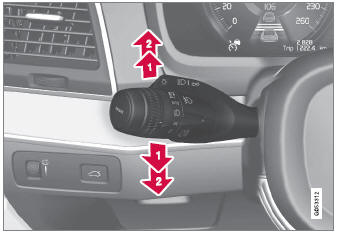 Turn signals.
Triple flash indicator

Move the steering wheel lever up or down to the first position and release. The turn signals will flash three times. If the function is deactivated via the center display, the signals will flash once.
NOTE
This automatic flashing sequence can be interrupted by immediately moving the lever in the opposite direction.
If the turn signal indicator flashes more quickly than normal, refer to the message in the instrument panel.
Continuous flashing sequence

Move the lever up or down as far as possible.
The lever will stop in its end position and can be moved back manually or automatically by moving the steering wheel.
Active high beams is a function that uses camera sensors in the upper edge of the windshield to detect the headlights of approaching vehicles or the taillights of the vehicle directly ahead...
Active Bending Lights (ABL) are designed to help provide extra illumination in curves and intersections. Depending on equipment level, vehicles with LED1 headlights* may be equipped with Active Bending Lights...
Other information:
(Option/accessory.) Adaptive Cruise Control (ACC1) may have limited functionality in certain situations. Steep roads and/or heavy loads Adaptive Cruise Control is primarily intended to be driven on flat roads. The function may not be able to maintain the correct time interval to the vehicle ahead when driving down steep hills...
(Option/accessory.) Volvo recommends the use of Volvo towbars that are specially designed for the vehicle. NOTE The optional detachable trailer hitch may not be available in all markets or on all models. Consult your Volvo retailer. Ball holder Cotter pin Towbar assembly Locking bolt Safety wire attachment bracket Installing the ball holder If necessary, remove the cotter pin from the lo..