Volvo XC90: Lighting / Using turn signals
The vehicle's turn signals are controlled using the left-side steering wheel lever. The turn signals flash three times or continuously, depending on how far up or down the lever is moved.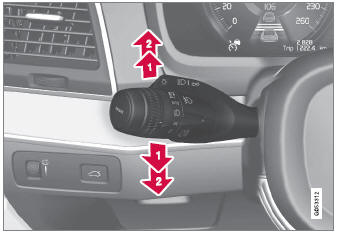 Turn signals.
Triple flash indicator

Move the steering wheel lever up or down to the first position and release. The turn signals will flash three times. If the function is deactivated via the center display, the signals will flash once.
NOTE
This automatic flashing sequence can be interrupted by immediately moving the lever in the opposite direction.
If the turn signal indicator flashes more quickly than normal, refer to the message in the instrument panel.
Continuous flashing sequence

Move the lever up or down as far as possible.
The lever will stop in its end position and can be moved back manually or automatically by moving the steering wheel.
Active high beams is a function that uses camera sensors in the upper edge of the windshield to detect the headlights of approaching vehicles or the taillights of the vehicle directly ahead...
Active Bending Lights (ABL) are designed to help provide extra illumination in curves and intersections. Depending on equipment level, vehicles with LED1 headlights* may be equipped with Active Bending Lights...
Other information:
Steering assistance has several sub-functions. Run-Off Mitigation with steering assistance can help the driver and reduce the risk of the vehicle inadvertently running off the road by actively steering the vehicle back onto the road. This function has two activation levels for intervention: Steering assistance only Steering assistance with braking Steering assistance only Intervention with ..
(Option/accessory) There are subfunctions for Road Sign Information (RSI1) that can alert the driver if the speed limit has been exceeded or if there are speed cameras nearby. Example of speed camera and speed limit information in the instrument panel Speed limit warning When Speed Warning is activated, the symbol for the current speed limit in the instrument panel2 will flash temporarily if..