Volvo XC90: Creating and registering a Volvo ID / Viewing the Vehicle Identification Number (VIN)
When contacting a Volvo retailer, about e.g. your Volvo On Call subscription, your Vehicle Identification Number (VIN1 ) may be needed.
Tap Settings in the center display's Top view.
Proceed to System System Information Vehicle Identification Number.

The vehicle identification number will be displayed.
The VIN can also be found:
on the first page of the Warranty and Service Records Information booklet
on the vehicle's registration card
by looking at the dashboard through the vehicle's windshield.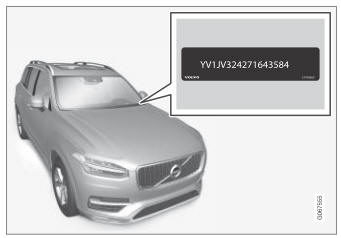 The VIN has a similar location on all models.
1 Vehicle Identification Number
In addition to Volvo factory training, Volvo supports certification by the National Institute for Automotive Service Excellence (A.S.E.). Certified technicians have demonstrated a high degree of competence in specific areas...
Volvo is one of the leading companies for car safety. Volvo engineers and manufactures vehicles designed to help protect vehicle occupants in the event of a collision...
Other information:
Information on vehicles with activated hazard warning flashers or which have detected slippery road conditions is not always communicated between all vehicles in the affected area. This may be the case if: No or insufficient Internet connection. The maneuvers (steering wheel movements, acceleration or braking) made by the vehicles on slippery surfaces are too weak for friction between the t..
The function of the tires is to carry loads, provide traction on r oad surfaces, reduce vibrations and protect the wheels from wear. The tires significantly influence the vehicle's driving characteristics. The type, dimensions, tire pressure and speed rating have a considerable impact on how the vehicle performs. Your vehicle is equipped with tires according to the vehicle's tire informat..