Volvo XC90: Audio, media and internet / Radio
The radio can receive broadcasting from the FM waveband with HD Radio™ Technology and SiriusXM® Satellite radio *. When the vehicle has an Internet connection, it is also possible to listen to web radio.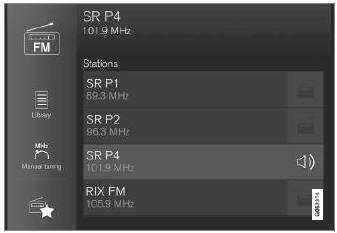 The radio can be controlled using voice commands, the right-side steering wheel keypad or the center display.
* Option/accessory.
When the vehicle is connected to the Internet, it is possible to uninstall apps. If the app is being used, it must be closed before it can be uninstalled...
The radio is started from the center display's App view. Open the desired waveband (e.g. FM) from App view. Select a radio station. ..
Other information:
Establish an Internet connection using Wi-Fi through Internet sharing (tethering) from a phone and get access to the connected services in your vehicle. Make sure that the phone supports Internet sharing (tethering) and that the function is activated. In an iPhone, the function is called "personal hotspot". In Android phones, the function can have different names, but is often called "hot..
A remote key can be linked to a driver profile. This driver profile and all of its settings will then automatically be selected every time the vehicle is used with that particular remote key. The first time the remote key is used, it is not linked to any specific driver profile. The Guest profile is automatically activated when the ignition is switched on. A driver profile can also be selected..