Volvo XC90: Audio, media and internet / Radio
The radio can receive broadcasting from the FM waveband with HD Radio™ Technology and SiriusXM® Satellite radio *. When the vehicle has an Internet connection, it is also possible to listen to web radio.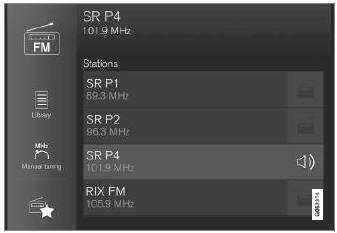 The radio can be controlled using voice commands, the right-side steering wheel keypad or the center display.
* Option/accessory.
When the vehicle is connected to the Internet, it is possible to uninstall apps. If the app is being used, it must be closed before it can be uninstalled...
The radio is started from the center display's App view. Open the desired waveband (e.g. FM) from App view. Select a radio station. ..
Other information:
(Option/accessory.) (100Warning for crossing traffic when the vehicle is backing up.) A number of messages related to Cross Traffic Alert (CTA) may be displayed in the instrument panel. Several examples are provided below. A An authorized Volvo workshop is recommended. B Blind Spot Information System A text message can be erased by briefly pressing the button in the center of the rightside ste..
IntelliSafe is Volvo Cars' philosophy regarding vehicle safety. IntelliSafe consists of a number of systems1 that are designed to help make driving safer, prevent accidents and protect passengers and other road users. 1 Some of these systems are standard, while others are options. This may vary depending on market, vehicle model and model year. WARNING The functions are supplementary aids –..