Volvo XC90: Audio, media and internet / Radio
The radio can receive broadcasting from the FM waveband with HD Radio™ Technology and SiriusXM® Satellite radio *. When the vehicle has an Internet connection, it is also possible to listen to web radio.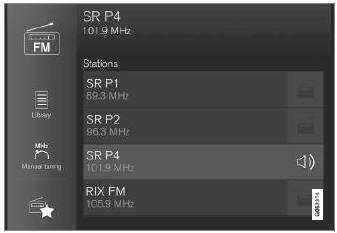 The radio can be controlled using voice commands, the right-side steering wheel keypad or the center display.
* Option/accessory.
When the vehicle is connected to the Internet, it is possible to uninstall apps. If the app is being used, it must be closed before it can be uninstalled...
The radio is started from the center display's App view. Open the desired waveband (e.g. FM) from App view. Select a radio station. ..
Other information:
(Option/accessory.) The Distance Alert function can help the driver become aware if the time interval to the vehicle in front is too short. The vehicle must be equipped with a head-up display* in order to display Distance Alert. Symbol for Distance Alert on the windshield with head-up display In vehicles equipped with a head-up display, a symbol will be displayed on the windshield as long as t..
Activating and deactivating An integrated compass1 in the upper right corner of the rearview mirror shows the direction the vehicle is traveling. The compass is automatically activated when the vehicle is started. To deactivate/activate the compass manually: Use a paper clip or similar object to press the button on the bottom of the mirror. If the compass is deactivated when the vehicle is ..