Volvo XC90: Audio, media and internet / Radio
The radio can receive broadcasting from the FM waveband with HD Radio™ Technology and SiriusXM® Satellite radio *. When the vehicle has an Internet connection, it is also possible to listen to web radio.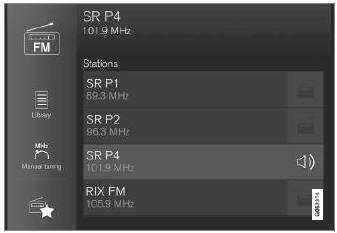 The radio can be controlled using voice commands, the right-side steering wheel keypad or the center display.
* Option/accessory.
When the vehicle is connected to the Internet, it is possible to uninstall apps. If the app is being used, it must be closed before it can be uninstalled...
The radio is started from the center display's App view. Open the desired waveband (e.g. FM) from App view. Select a radio station. ..
Other information:
You can use the keyboard in the center display to enter characters or to switch to handwriting mode to "write" letters and characters on the screen. The keyboard can be used to enter characters (letters, numbers, symbols, etc.) to e.g. send text messages from the vehicle, enter passwords or search for information in the digital Owner's Manual. The keyboard will only appear when it is possible t..
Private locking is activated using the function button in the center display and a PIN code. NOTE For the valet lock function to be activated the car must be in at least ignition mode I. Two codes are used for private locking: A security code, which is created the first time the function is used. A PIN code, which is changed each time the function is activated. Entering security code before ..