Volvo XC90: Audio, media and internet / Radio
The radio can receive broadcasting from the FM waveband with HD Radio™ Technology and SiriusXM® Satellite radio *. When the vehicle has an Internet connection, it is also possible to listen to web radio.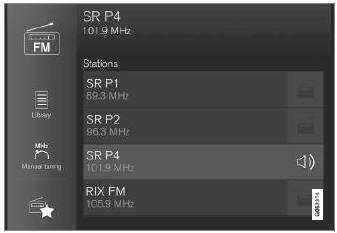 The radio can be controlled using voice commands, the right-side steering wheel keypad or the center display.
* Option/accessory.
When the vehicle is connected to the Internet, it is possible to uninstall apps. If the app is being used, it must be closed before it can be uninstalled...
The radio is started from the center display's App view. Open the desired waveband (e.g. FM) from App view. Select a radio station. ..
Other information:
If safety mode has been set, it may be possible to reset the system in order to start and move the vehicle a short distance, for example, if it is blocking traffic. Starting the vehicle when it is in safety mode Check the vehicle for damage, particularly for fuel leakage. Make sure you do not detect any gasoline fumes.If the damage to the vehicle is minor and there is no fuel leakage/fumes,..
Here are examples of some of the messages and symbols related to the camera and radar units that may be displayed in the instrument panel. Sensor blocked If this symbol and the message Windscreen sensor Sensor blocked, see Owner's manual is displayed in the instrument panel, it means that the camera and radar unit are unable to detect other vehicles, cyclists, pedestrians and large animals in ..