Volvo XC90: Audio, media and internet
The audio and media system consists of a media player and a radio. A cellular phone can also be connected through Bluetooth to use hands-free functions or play music in the vehicle. When the vehicle is connected to the Internet, it is also possible to use apps to play media.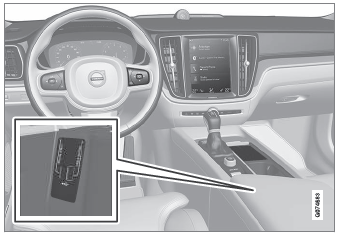 Audio and media overview
The functions can be controlled using voice commands, the steering wheel keypad or the center display. The number of speakers and amplifiers varies depending on the audio system installed in the vehicle.
System updates
The audio and media system is continuously improved. It is recommended to download system updates as soon as they are available.
Activating and deactivating An integrated compass1 in the upper right corner of the rearview mirror shows the direction the vehicle is traveling. The compass is automatically activated when the vehicle is started...
Sound reproduction quality is preset but can also be adjusted. The system's volume is normally adjusted using the volume control below the center display or the right-side steering wheel keypad...
Other information:
The vehicle is equipped with standard and electric seat belt tensioners that can help tension the seat belt in a critical situation or collision. Standard seat belt tensioners All seat belts are equipped with a standard seat belt tensioner. In a collision of sufficiently violent force, the seat belt tensioners will tension the seat belts in order to more effectively restrain the occupants...
(Option/accessory) (Depending on market, this function can be either standard or optional.) The following illustrations show how Adaptive Cruise Control (ACC1 ) can appear in the various displays in different situations. Speed Speed indicators Set speed Speed of the vehicle ahead The current speed of your vehicle Time interval Adaptive Cruise Control will only regulate the time interval to ..