Volvo XC90: Audio, media and internet / HD Radio™ sub-channels
In many cases, a main HD Radio station (FM wavebands only) will also have sub-channels offering additional types of programming or music.
Sub-channels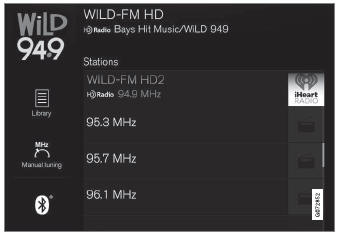 Example of an HD Radio station with sub-channels
If any sub-channels are available, they will listed below the main channel on the screen. In this example, WILD-FM HD2 is a sub-channel.
Selecting sub-channels
To listen to a station's sub-channel(s), tap the station on the screen or press the forward/ back arrow keys on the right-side steering wheel keypad or below the screen.
Sub-channels can also be saved as radio favorites.
If you tap a sub-channel favorite, it may take up to 6 seconds before the channel becomes audible. If you tap a station while you are out of digital range of the transmitter, No reception will be displayed.
HD Radio is deactivated when the car leaves the factory. When listening to an HD Radio station and driving through areas with weak HD signals (fringe areas), you may experience that the radio repeatedly switches between analog/digital and digital/analog reception...
Limitations Main channel vs. sub-channels (FM only): The main channel is the only channel that can receive in hybrid mode (both digital and analog)...
Other information:
A more economical driving style can help lower fuel consumption. Before driving If possible, precondition the vehicle before driving. If preconditioning is not possible when it is cold outside, use seat and steering wheel heating first. Avoid heating the entire passenger compartment to reduce the amount of current being taken from the start battery...
(Option/accessory.) Passing assistance can assist the driver when passing other vehicles. The function can be used with Adaptive Cruise Control* or Pilot Assist*. When Adaptive Cruise Control or Pilot Assist is following another vehicle and you indicate that you intend to pass that vehicle by using the turn signal1, the system will begin accelerating toward the vehicle ahead before your vehicle..