Volvo XC90: Audio, media and internet / Changing waveband and radio station
Instructions for changing wavebands, waveband lists and radio stations in the selected list are provided here.
Changing wavebands
Swipe from App view on the center display and select the desired waveband (e.g. FM) or open the App menu in the instrument panel with the right-side steering wheel keypad and make your selection there.
Changing a list in a waveband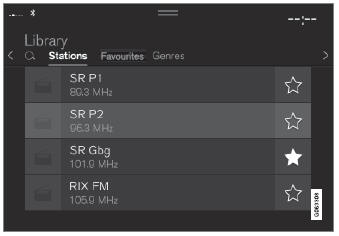 Tap Library.
Select playback from Stations, Favorites or Genres.
Tap the desired station in the list.
Favorites – only plays selected favorite channels.
Genres - only plays channels broadcasting the selected genre or program type, e.g. pop, classical, etc.
Changing radio stations in a selected list
Press or under the center display or on the right-side steering wheel keypad.
Move step-by-step through the selected list.
It is also possible to change radio station in the selected list via the center display.
The radio automatically compiles a list of the radio stations that are sending out the strongest signals in the vehicle's current location. Searching is performed in different ways depending on the waveband selected: FM, stations, genres and frequency...
Other information:
In order for the tire inflation pressure monitoring system1 to function correctly, inflation pressure reference values must be saved correctly. To help ensure that the system can correctly alert the driver of low inflation pressure, this must be done each time the tires are changed or the inflation pressure is adjusted...
(Option/accessory.) The head-up display can be activated and deactivated when the vehicle has been started. Press the Head-up Display button in the center display's Function view. An indicator light in the button will illuminate when the function is activated...