Volvo XC90: Audio, media and internet / Changing waveband and radio station
Instructions for changing wavebands, waveband lists and radio stations in the selected list are provided here.
Changing wavebands
Swipe from App view on the center display and select the desired waveband (e.g. FM) or open the App menu in the instrument panel with the right-side steering wheel keypad and make your selection there.
Changing a list in a waveband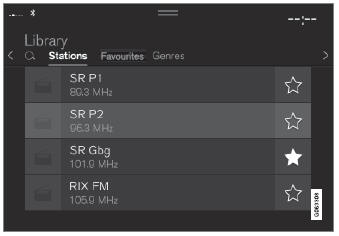 Tap Library.
Select playback from Stations, Favorites or Genres.
Tap the desired station in the list.
Favorites – only plays selected favorite channels.
Genres - only plays channels broadcasting the selected genre or program type, e.g. pop, classical, etc.
Changing radio stations in a selected list
Press or under the center display or on the right-side steering wheel keypad.
Move step-by-step through the selected list.
It is also possible to change radio station in the selected list via the center display.
The radio automatically compiles a list of the radio stations that are sending out the strongest signals in the vehicle's current location. Searching is performed in different ways depending on the waveband selected: FM, stations, genres and frequency...
Other information:
Grocery bag holders (hooks) help keep shopping bags in place and prevent them from falling over and spilling their contents in the cargo compartment. On the sides of the cargo compartment There are two fold-out holders in the side panels, one on each side of the cargo compartment...
Distance Alert functionality may be reduced in certain situations. The function is only available in vehicles that can display information on the windshield with a head-up display *. WARNING Detection ability may be affected by vehicle size, e.g. motorcycles, which can cause the warning light to come on at a shorter time interval than that set or cause the warning to be temporarily absent...