Volvo XC90: Audio, media and internet / SiriusXM® Satellite radio
The SiriusXM® Satellite system broadcasts from of a number of high elevation satellites in geosynchronous orbit.
Listening to satellite radio
The digital signals from the satellites are lineof- sight, which means that physical obstructions such as bridges, tunnels, etc, may temporarily interfere with signal reception.
Avoid any obstructions, such as metallic objects transported on roof racks or in a ski box, or other antennas that may impede signals from the SiriusXM® satellites.
Selecting SiriusXM® Satellite radio mode
From the center display's Home view, swipe from right to left to come to App view.

Tap the SiriusXM® Satellite radio icon.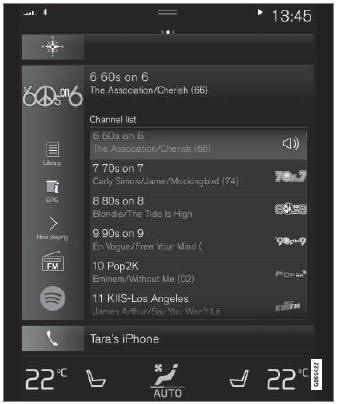 Home view with SiriusXM® Satellite radio activated
If there is no subscription activated, tap channel 1, where you will be prompted on the screen to phone SiriusXM®.
If a cell phone is paired and connected to the vehicle, you can also subscribe by:
From Home view, pull down the Settings menu.
Open the settings menu for SiriusXM® Satellite radio.
Tap Unsubscribed Services.
To call SiriusXM®, enter the phone number. They will activate the subscription of your choice. This may take several minutes.
When the subscription has been activated, tap the SiriusXM® Satellite radio icon to start the function and display the channel list included in your subscription.
Limitations Main channel vs. sub-channels (FM only): The main channel is the only channel that can receive in hybrid mode (both digital and analog)...
(Option/accessory.) SiriusXM® Satellite radio offers several features for finding and listening to music, news, sporting events, etc. being broadcast on satellite radio stations...
Other information:
A license is an agreement on the right to conduct a certain activity or the right to use someone else's right according to terms and conditions specified in the agreement. The following texts are Volvo's agreements with manufacturers/developers. Bowers & Wilkins Bowers & Wilkins and B&W are trademarks of the B&W Group Ltd...
Driver Alert Control (DAC) functionality may be reduced in certain situations. In certain situations, the system may provide a warning even if it has not detected a change in driving behavior, e.g.: in strong crosswinds on grooved road surfaces. WARNING In certain cases, driving behavior might not be affected despite the driver's fatigue – when using the Pilot Assist* function – resultin..