Volvo XC90: Driver support / Deactivating cruise control
Cruise control (CC1) can be deactivated and switched off.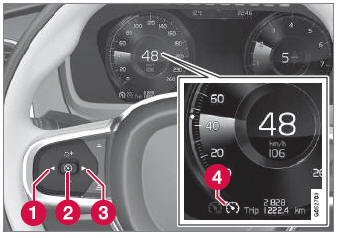 Press the button on the steering wheel (2).

The symbol and markings turn gray – cruise control goes into standby mode.

Press the (1) or (3) buttons on the steering wheel to select another function.

The cruise control symbol and marking (4) in the instrument panel will go out and the stored maximum speed will be erased.
1 Cruise Control