Volvo XC90: Driver support / Deactivating cruise control
Cruise control (CC1) can be deactivated and switched off.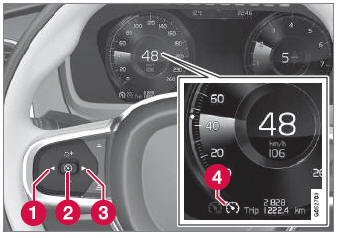 Press the button on the steering wheel (2).

The symbol and markings turn gray – cruise control goes into standby mode.

Press the (1) or (3) buttons on the steering wheel to select another function.

The cruise control symbol and marking (4) in the instrument panel will go out and the stored maximum speed will be erased.
1 Cruise Control
The Cruise Control (CC1) function must be selected and activated in order to regulate speed. In order to start Cruise Control from standby mode, the vehicle's current speed must be 30 km/h (20 mph) or higher...
Cruise control (CC1) can be deactivated and put in standby mode. This may happen automatically or be due to driver intervention. Standby mode means that the function is selected in the instrument panel but not activated...
Other information:
When hoisting the vehicle, it is important that the jack is positioned on the designated points under the vehicle. The triangles in the plastic covering indicate where the jack attachment points/lifting points (red areas) are located. NOTE For vehicles with Leveling Control*: If the vehicle is equipped with pneumatic suspension, this feature must be turned off before the vehicle is lifted ont..
Driver Alert Control (DAC) functionality may be reduced in certain situations. In certain situations, the system may provide a warning even if it has not detected a change in driving behavior, e.g.: in strong crosswinds on grooved road surfaces. WARNING In certain cases, driving behavior might not be affected despite the driver's fatigue – when using the Pilot Assist* function – resultin..