Volvo XC90: Driver support / Deactivating cruise control
Cruise control (CC1) can be deactivated and switched off.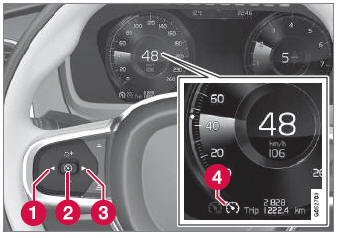 Press the button on the steering wheel (2).

The symbol and markings turn gray – cruise control goes into standby mode.

Press the (1) or (3) buttons on the steering wheel to select another function.

The cruise control symbol and marking (4) in the instrument panel will go out and the stored maximum speed will be erased.
1 Cruise Control
The Cruise Control (CC1) function must be selected and activated in order to regulate speed. In order to start Cruise Control from standby mode, the vehicle's current speed must be 30 km/h (20 mph) or higher...
Cruise control (CC1) can be deactivated and put in standby mode. This may happen automatically or be due to driver intervention. Standby mode means that the function is selected in the instrument panel but not activated...
Other information:
(Certain markets only) Voice commands for the radio and media players are shown below. Tap and say one of the following commands: "Media" - initiates a dialog for media and radio and displays examples of commands. "Play [artist]" - plays music by the selected artist...
Here are examples of some of the messages and symbols related to the camera and radar units that may be displayed in the instrument panel. Sensor blocked If this symbol and the message Windscreen sensor Sensor blocked, see Owner's manual is displayed in the instrument panel, it means that the camera and radar unit are unable to detect other vehicles, cyclists, pedestrians and large animals in ..