Volvo XC90: Seats and steering wheel / Front seat massage settings
(Option/accessory)
The settings for the multifunctional seats can be adjusted using either the mutifunction control on the side of the seat or the center display. The adjustment settings are shown in the center display.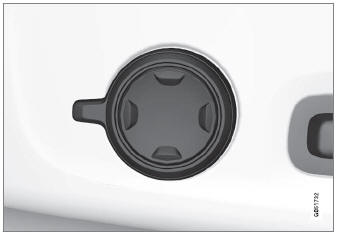 Multifunction control, located on the side of the seat cushion.
Massage settings
The following massage settings are available:
On/Off: Select On/Off to turn on/off the massage function.
Programs 1-5: There are 5 preset massage programs. Select Swell, Tread, Advanced, Lumbar or Shoulder.
Intensity: Select Low, Normal or High.
Speed: Select Slow, Normal or Fast.
Restarting the massage function
The massage function turns off automatically after 20 minutes. The function is reactivated manually.
Tap Restart, which is displayed in the center display, to restart the selected massage program.

The massage program will restart. If no selection is made, the message will be stored in Top view.