Volvo XC90: Key, locks and alarm / Keyless tailgate unlock
(Option/accessory.)
With keyless locking and unlocking, the tailgate can be unlocked by lightly touching the rubberized button on the tailgate handle.
NOTE
One of the vehicle's remote keys must be within range behind the vehicle for unlocking to be possible.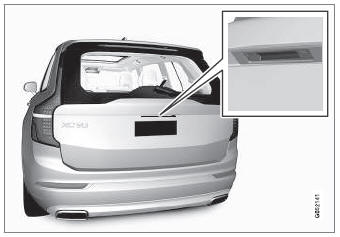 The tailgate is held closed by an electronic locking mechanism.
To open:
Lightly press the rubberized pressure plate on the underside of the tailgate handle.
Lift the outer handle to open the tailgate.
CAUTION
Only light pressure on the rubberized pressure plate is necessary to release the tailgate's locking mechanism.
Use the handle to lift the tailgate and do not apply force to the rubberized pressure plate. Too much force can damage the pressure plate's electrical connections.
Hands-free unlocking of the tailgate is also possible using a foot movement under the rear bumper; see the separate section.
WARNING
Do not drive with the tailgate open. Toxic exhaust fumes can be sucked into the vehicle through the cargo compartment.
(Option/accessory.) Several different sequences are available for keyless unlocking. To change this setting: Tap Settings in the center display's Top view...
The antennas for the keyless start system and keyless locking system* are integrated in the vehicle. Location of the antennas: Under the cup holder in the front section of the tunnel console In the upper front section of the left-side rear door1 In the upper front section of the right-side rear door1 In the center of the rear seat backrest1 WARNING Individuals with an implanted pacemaker ..
Other information:
The vehicle should be washed as soon as it becomes dirty. This makes the vehicle easier to clean because dirt does not attach as strongly. It also reduces the risk of scratches and keeps the vehicle looking new. Wash the vehicle in a car wash or garage with an oil separator and use car washing detergent. Use cleaning agents and car care products recommended by Volvo. Important to keep in mind ..
This system is intended to remind occupants to buckle their seat belts and to alert the driver if a door, hood or other opening (trunk, sunroof, etc.) is open. Graphics in the instrument panel Graphics in the instrument panel with various types of warnings. The warning colors for the doors/tailgate vary depending on the vehicle's speed. The instrument panel graphic shows the seats where seat be..