Volvo XC90: Key, locks and alarm / Keyless tailgate unlock
(Option/accessory.)
With keyless locking and unlocking, the tailgate can be unlocked by lightly touching the rubberized button on the tailgate handle.
NOTE
One of the vehicle's remote keys must be within range behind the vehicle for unlocking to be possible.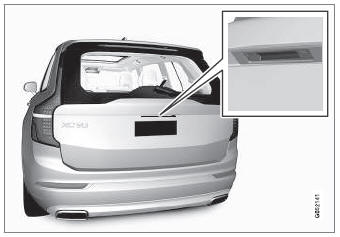 The tailgate is held closed by an electronic locking mechanism.
To open:
Lightly press the rubberized pressure plate on the underside of the tailgate handle.
Lift the outer handle to open the tailgate.
CAUTION
Only light pressure on the rubberized pressure plate is necessary to release the tailgate's locking mechanism.
Use the handle to lift the tailgate and do not apply force to the rubberized pressure plate. Too much force can damage the pressure plate's electrical connections.
Hands-free unlocking of the tailgate is also possible using a foot movement under the rear bumper; see the separate section.
WARNING
Do not drive with the tailgate open. Toxic exhaust fumes can be sucked into the vehicle through the cargo compartment.
(Option/accessory.) Several different sequences are available for keyless unlocking. To change this setting: Tap Settings in the center display's Top view...
The antennas for the keyless start system and keyless locking system* are integrated in the vehicle. Location of the antennas: Under the cup holder in the front section of the tunnel console In the upper front section of the left-side rear door1 In the upper front section of the right-side rear door1 In the center of the rear seat backrest1 WARNING Individuals with an implanted pacemaker ..
Other information:
In certain situations, it may be advisable to turn the Start/Stop function off. To turn off Start/Stop, tap the Start/Stop function button in the center display's Function view. The indicator light in the button will go out when the function has been turned off. The function will remain turned off until: it is reactivated the drive mode is changed to Eco. ..
(Option/accessory) There are integrated sun curtains in each rear door. Rear door – manually operated The illustration is generic – the design may vary. Hook with locking mechanism Pull up the sun curtain and hook it to the upper section of the door frame. The window can be opened and closed when the sun curtain is being used...