Volvo XC90: Key, locks and alarm / Antenna locations for the start and lock system
The antennas for the keyless start system and keyless locking system* are integrated in the vehicle.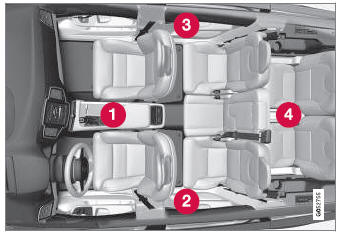 Location of the antennas:

Under the cup holder in the front section of the tunnel console

In the upper front section of the left-side rear door1

In the upper front section of the right-side rear door1

In the center of the rear seat backrest1
WARNING
Individuals with an implanted pacemaker should not allow the pacemaker to come closer than 22 cm (9 in.) to the Keyless system antennas. The aim of this is to prevent disturbances between the pacemaker and the Keyless system.
1 Only in vehicles equipped with keyless locking and unlocking*.
* Option/accessory.
(Option/accessory.) With keyless locking and unlocking, the tailgate can be unlocked by lightly touching the rubberized button on the tailgate handle...
The doors and tailgate can be locked and unlocked from inside the vehicle using the central lock buttons in the front doors. Central locking Button with indicator light for locking and unlocking in front door...
Other information:
(Option/accessory.) (Depending on market, this function can be either standard or optional.) The following illustrations show how Pilot Assist can appear in the various displays in different situations. Speed Speed indicators. Set speed Speed of the vehicle ahead The current speed of your vehicle Time interval Pilot Assist will only regulate the time interval to the vehicle ahead when the d..
Windows, glass and mirrors The vehicle is equipped with several different types of windows, glass and mirrors. Some of the windows in the car are laminated. The windshield has laminated glass. Laminated glass is also available as on option for some other glass surfaces. Laminated glass is reinforced, which provides better protection against break-ins and improved soundproofing in the passenger ..