Volvo XC90: Driver support / Park Assist
(Option/accessory.)
The Park Assist function (PAS1) uses sensors to help the driver when maneuvering in tight spaces by indicating distances to obstacles using audible signals and graphics in the center display.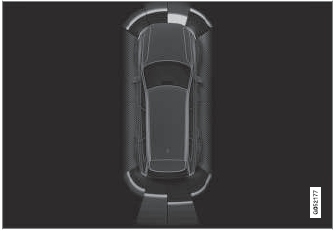 Display view showing obstacle zones and sensor sectors.
The center display shows an overview of the vehicle in relation to objects that have been detected.
The marked sector indicates where the obstacle is located. The closer the vehicle symbol is to a marked sector forward/rearward, the closer the detected obstacle is to your vehicle.
The side sectors change color as the distance between the vehicle and an object decreases.
The audible signals will also speed up the closer the obstacle is to the vehicle. The volume of the audio system will be automatically lowered.
Audible signals for obstacles in front and to the sides of the vehicle are active when the vehicle is moving but will cease after the vehicle has been stationary for approx. 2 seconds. Audible signals for obstacles behind the vehicle will remain active even when the vehicle is stationary.
If a detected obstacle is within approx. 30 cm (1 ft) from the front or rear of the vehicle, the tone will become constant and the active sensor field closest to the vehicle symbol will be filled in.
At distances within approx. 25 cm (0.8 ft) from an obstacle to the sides of the vehicle, an rapid pulsing signal will be given and the active sector fields will change color from ORANGE to RED.
The volume of the Park Assist audible signals can be adjusted while the signal is being given using the >II knob or in the center display's Top view under Settings.
NOTE
Besides in the sector closest to the vehicle symbol, audible warnings are only provided for objects located directly in the vehicle's path.
WARNING
The function is supplementary driver support intended to facilitate driving and help make it safer – it cannot handle all situations in all traffic, weather and road conditions.
The driver is advised to read all sections in the Owner's Manual about this function to learn of its limitations, which the driver must be aware of before using the function.
Driver support functions are not a substitute for the driver's attention and judgment. The driver is always responsible for ensuring the vehicle is driven in a safe manner, at the appropriate speed, with an appropriate distance to other vehicles, and in accordance with current traffic rules and regulations.
1 Park Assist System