Volvo XC90: Driver support / Park Assist Camera symbols and messages
Symbols and messages for the Park Assist Camera (PAC1) may be displayed in the instrument panel and/or the center display. Several examples are provided below.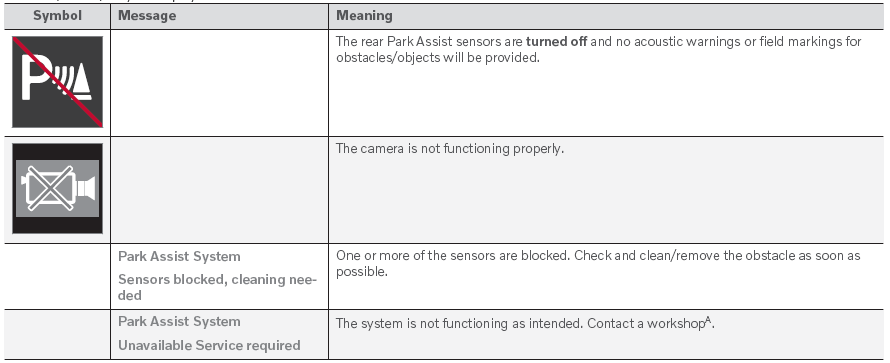 A An authorized Volvo workshop is recommended.
A text message can be erased by briefly pressing the

button in the center of the rightside steering wheel keypad.
If a message cannot be erased, contact a workshopA.
1 Park Assist Camera
The Park Assist Camera (PAC1) is automatically activated when reverse gear is engaged or can be started manually using one of the center display's function buttons...
Park Assist Pilot (PAP1) can help the driver maneuver the vehicle when parking. The function can also assist with steering when pulling out from a parallel parking space...
Other information:
As part of Volvo's commitment to safety and quality, certain information is recorded regarding vehicle operation, functionality and incidents. US market only: EDR This vehicle is equipped with an "Event Data Recorder" (EDR). The main purpose of an EDR is to record, in certain crash or near crash-like situations, such as an air bag deployment or hitting a road obstacle, data that will assist in ..
If you experience any problems with the electrical functions for the power windows, you can try to perform a reset. WARNING If the starter battery is disconnected, the function for automatic opening and closing must be reset to function correctly. A reset is required in order for the pinch protection to work. Consult a workshop if you experience any problems with the panoramic roof.1 Resetting ..