Volvo XC90: Starting and driving / Parking brake malfunction
If you are unable to deactivate or activate the parking brake after several attempts, contact an authorized Volvo workshop. A audible warning signal will sound if the parking brake is activated while the vehicle is being driven.
If the vehicle must be parked before the problem is rectified, turn the wheels as when parking on an incline and put the gear selector in P.
Low battery charge level
If the battery charge level is too low, it will not be possible to activate or deactivate the parking brake. Connect an auxiliary battery to the vehicle if the battery is discharged.
Replacing brake pads
Due to the design of the electric parking brake, the rear brake pads must be replaced by a workshop. An authorized Volvo workshop is recommended.
Symbols in the instrument panel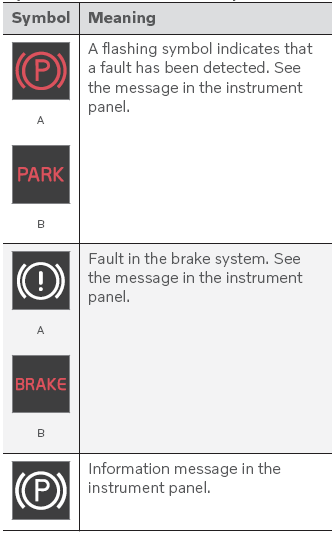 A Canadian models.
B US models.
Settings for automatically activating the parking brake Choose whether the parking brake should be activated automatically when the vehicle is switched off...
With the Auto-hold brake function, the driver can release the brake pedal and the brakes will remain applied, for example, when the vehicle has stopped at a traffic light or intersection...
Other information:
(* Option/accessory.) (Warning for crossing traffic when the vehicle is backing up.) The Cross Traffic Alert (CTA) function with auto brake may have limited functionality in certain situations. Auto-brake is active at speeds under 15 km/h (9.3 mph)...
ALL PASSENGER VEHICLE TIRES MUST CONFORM TO FEDERAL SAFETY REQUIREMENTS IN ADDITION TO THESE GRADES. Quality grades can be found, where applicable, on the tire sidewall between the tread shoulder and maximum section width. For example: Treadwear 200 Traction AA Temperature A TREADWEAR The treadwear grade is a comparative rating based on the wear rate of the tire when tested under controlled con..