Volvo XC90: Lighting / Power windows
Every door has a control panel for the power windows. The driver's door has controls for operating all windows and for activating the child safety locks.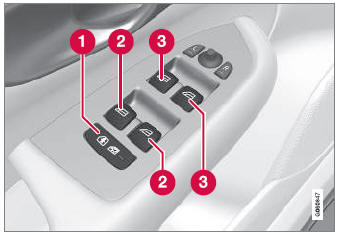 Driver's door control panel.

Electric child safety locks* that deactivate the controls in the rear doors to prevent the doors or windows from being opened from the inside.

Rear window controls.

Front window controls.
WARNING
Children, other passengers or objects can be trapped by the moving parts.
Always operate the windows with caution.
Do not allow children to play with the operating controls.
Never leave a child alone in the vehicle.
Remember to always cut the current to the power windows by setting the vehicle's electrical system to ignition mode 0 and then taking the key with you when leaving the vehicle.
Never stick objects or body parts out through the windows, even if the vehicle electrical system is completely turned off.
* Option/accessory.
If you experience any problems with the electrical functions for the power windows, you can try to perform a reset. WARNING If the starter battery is disconnected, the function for automatic opening and closing must be reset to function correctly...
All power windows can be operated using the control panel in the driver's door. The control panels in the other doors can be used to operate that particular door...
Other information:
(Option/accessory) To make it easier to operate the tailgate when your hands are full, it can be opened and closed by moving your foot in a forward kicking motion under the rear bumper. The sensor is located to the left of center under the rear bumper1...
(Option/accessory.) SiriusXM® Satellite radio offers several features for finding and listening to music, news, sporting events, etc. being broadcast on satellite radio stations. SiriusXM® Satellite radio functions With SiriusXM® Satellite radio activated, tap Library to display a screen offering the following functions: Search (the magnifying glass icon) Channels Favorites Categories ..