Volvo XC90: Wheels and tires / Viewing tire pressure status in the center display
With the system for tire inflation pressure monitoring1, inflation pressure status can be viewed in the center display.
Checking status
The vehicle may need to be driven for a few minutes at a speed above 35 km/h (22 mph) to activate the system.
Open the Car Status app in App view.
Tap TPMS to display the status of the tires.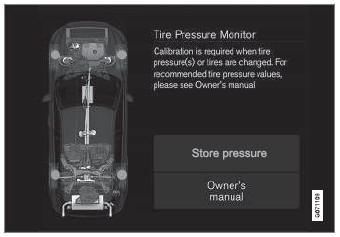 The illustration is generic. Layout may vary depending on vehicle model or software version.
1 Tire Pressure Monitoring System (TPMS)
In order for the tire inflation pressure monitoring system1 to function correctly, inflation pressure reference values must be saved correctly. To help ensure that the system can correctly alert the driver of low inflation pressure, this must be done each time the tires are changed or the inflation pressure is adjusted...
When the tire inflation pressure monitoring system1 detects low inflation pressure in a tire, immediate action is required. If the system's indicator symbol illuminates and the message Tire pressure low is displayed, check the tire pressure and inflate if necessary...
Other information:
(Option/accessory) Road Sign Information (RSI1) functionality may be reduced in certain situations. The function could have reduced functionality due to e.g.: faded road signs signs located in a curve in the road twisted or damaged signs signs positioned high above the road fully/partially obstructed or poorly positioned signs signs partially or fully covered by frost, snow and/or dirt di..
On our website, click the "Owner" tab in the upper left-hand side of the screen and then click on the heading "Recall Information". Enter the vehicle identification number (VIN), which can be found at the bottom of the windshield. If your vehicle has any open Recalls, they will be displayed on this page. You can also enter the Vehicle Identification Number in the search field on the National H..