Volvo XC90: Wheels and tires / Viewing tire pressure status in the center display
With the system for tire inflation pressure monitoring1, inflation pressure status can be viewed in the center display.
Checking status
The vehicle may need to be driven for a few minutes at a speed above 35 km/h (22 mph) to activate the system.
Open the Car Status app in App view.
Tap TPMS to display the status of the tires.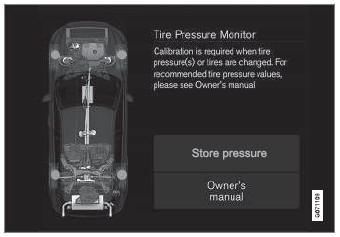 The illustration is generic. Layout may vary depending on vehicle model or software version.
1 Tire Pressure Monitoring System (TPMS)