Volvo XC90: Wheels and tires / Viewing tire pressure status in the center display
With the system for tire inflation pressure monitoring1, inflation pressure status can be viewed in the center display.
Checking status
The vehicle may need to be driven for a few minutes at a speed above 35 km/h (22 mph) to activate the system.
Open the Car Status app in App view.
Tap TPMS to display the status of the tires.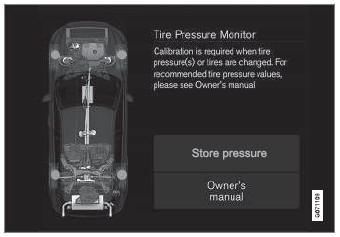 The illustration is generic. Layout may vary depending on vehicle model or software version.
1 Tire Pressure Monitoring System (TPMS)
In order for the tire inflation pressure monitoring system1 to function correctly, inflation pressure reference values must be saved correctly. To help ensure that the system can correctly alert the driver of low inflation pressure, this must be done each time the tires are changed or the inflation pressure is adjusted...
When the tire inflation pressure monitoring system1 detects low inflation pressure in a tire, immediate action is required. If the system's indicator symbol illuminates and the message Tire pressure low is displayed, check the tire pressure and inflate if necessary...
Other information:
Seat belts should always be worn by all occupants in your vehicle. Children should be properly restrained using an infant seat, adjustable child seat or booster cushion as determined by age, weight and height. Most states and provinces make it mandatory for occupants of a vehicle to use seat belts...
Indicator and warning symbols alert the driver that a function is active, that a symbol is working, or that an error or serious fault has occurred. Red symbols A Canadian models. B US models. Amber symbols Blue symbols Green symbols White/gray symbols ..