Volvo XC90: Key, locks and alarm / Alarm
The alarm emits sound and light signals if anyone without a valid remote key attempts to break into the vehicle or interferes with the start battery or alarm siren.
Alarm indicator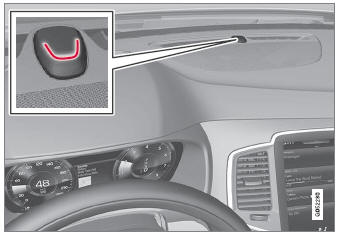 A red indicator light on the dashboard shows the status of the alarm:
Indicator off - the alarm is disarmed.
Indicator flashes once every two seconds - the alarm is armed.
The indicator flashes quickly after the alarm has been disabled for up to 30 seconds or until the ignition is put in I mode – the alarm has been triggered.
When armed, the alarm will be triggered if:
the hood, tailgate or any door is opened.
a battery cable is disconnected.
the alarm siren is disconnected.
Alarm signals
The following occurs if the alarm is triggered:
A siren will sound for 30 seconds or until the alarm is turned off.
The hazard warning flashers will flash for 5 minutes or until the alarm is turned off.
If the reason the alarm was triggered is not rectified, the alarm cycle will repeat up to 10 times1.
Symbols and messages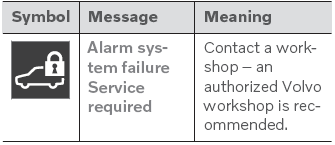 NOTE
Do not attempt to repair or alter any of the components in the alarm system yourself. Any such attempt could affect the terms and conditions of your insurance policy.
1 Certain markets only.