Volvo XC90: Starting and driving / Compass
(Option/accessory.)
An integrated compass1 in the upper right corner of the rearview mirror shows the direction the vehicle is traveling.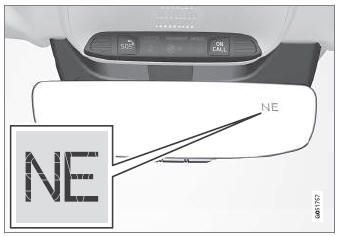 Rearview mirror with compass.
Eight different compass directions are shown with the abbreviations: N (north), NE (northeast), E (east), SE (southeast), S (south), SW (southwest), W (west) and NW (northwest).
1 Rearview mirror with compass is available as an option only on certain markets and models.