Volvo XC90: Safety / Folding down the integrated booster cushion
Option/accessory.
When the integrated booster cushion in the rear seat is not in use, it should be stowed (folded down).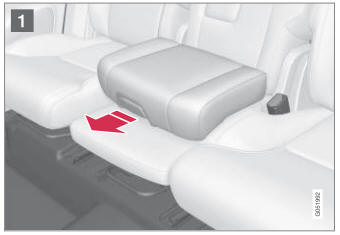 Pull the handle forward to release the booster cushion.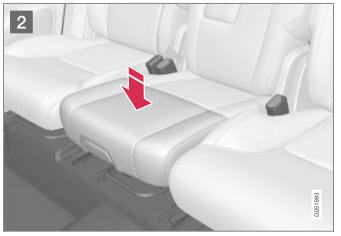 Press down on the center of the booster cushion to lock it into position.
CAUTION
Make sure that there are no objects (e.g. toys) on the seat under the integrated booster cushion before folding it down.
NOTE
The integrated booster cushion must be stowed (folded down) before folding down the seat backrest.
WARNING
DEATH or SERIOUS INJURY can occur
Follow all instructions on this child restraint and in the vehicle's owner's manual.
Make sure the booster cushion is securely locked before the child is seated.
Only use for children who weigh between 15-36 kg (33-80 lbs) and who are between 97-137 cm (38-54 tum) in height. In Canada: 18 kg (40 lbs) is the minimum weight requirement for a child using booster cushions according to the Canadian regulation CMVSS 213.4
Use only the vehicle's lap and shoulder belt system when restraining the child in this booster cushion.
In the event of a collision while the integrated booster cushion was occupied, the entire booster cushion and seat belt must be replaced. The booster cushion should also be replaced if it is badly worn or damaged in any way. This work should be performed by a trained and qualified Volvo service technician only.
Option/accessory. When the integrated booster cushion is used, it must be folded up. Pull the handle forward and upward to release the booster cushion...
Other information:
The climate system's recirculation function helps shut out smog, smoke, exhaust fumes, etc. by reusing the air in the passenger compartment. Tap the symbol in the center of the climate bar to open Climate view in the center display. Tap Recirc. Air recirculation is activated/deactivated and the button lights up/goes out. CAUTION If the air in the vehicle is recirculated too long,..
Wheel changes must always be carried out correctly. The following instructions show how to remove and install a wheel and what is important to keep in mind. Make sure that the tire dimension is approved for use on the vehicle. WARNING If a tire must be changed near passing traffic, make sure all passengers move to a safe location. Use a jack intended for the vehicle when changing a tire. Fo..