Volvo XC90: Displays and voice control / Function view in the center display
Function view, which is one of the center display's basic views, contains all of the vehicle's function buttons. From the Home view, navigate to Function view by swiping from left to right over the screen1.
Different types of buttons
There are three different types of buttons for vehicle functions; see below:

Button modes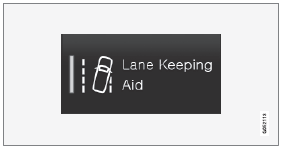 When a function or parking button's LED indicator is green, the function is activated (on). For some functions, an additional text explaining the function will be shown when the function is initially activated. The text will be displayed for a few seconds and then the button will be displayed with the LED indicator illuminated.
For Lane Keeping Aid, for example, the text Works only at certain speeds will be displayed when the button is pressed.
Press the button once briefly to activate or deactivate the function.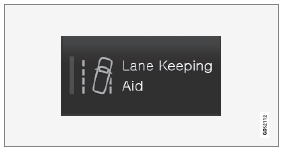 The function is deactivated when the LED indicator light is switched off.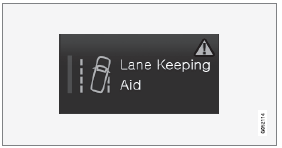 A warning triangle in the right-hand section of the button indicates that something is not working correctly.
1 Applies for left-hand drive vehicles. For right-hand drive vehicles, swipe in the other direction.
Home view consists of four tiles: Navigation, Media, Phone and a fourth tile. These views can be expanded. Expanding a tile from standard mode Standard mode and expanded mode of a tile in the center display...
The apps and buttons for vehicle functions can be moved and organized in the App and Function views. Swipe from right to left1 to access App view or swipe from left to right1 to access Function view...
Other information:
(Option/accessory) (Depending on market, this function can be either standard or optional.) The following illustrations show how Adaptive Cruise Control (ACC1 ) can appear in the various displays in different situations. Speed Speed indicators Set speed Speed of the vehicle ahead The current speed of your vehicle Time interval Adaptive Cruise Control will only regulate the time interval to ..
For Connected Safety to be able to share information about road conditions with other drivers, the function must be activated. If you do not wish to share information, the function can be deactivated. Activate or deactivate the function using this button in the center display's Function view. Illuminated button indicator light – the function is activated. Extinguished button indicator lig..