Volvo XC90: Displays and voice control / Handling tiles in the center display
Home view consists of four tiles: Navigation, Media, Phone and a fourth tile. These views can be expanded.
Expanding a tile from standard mode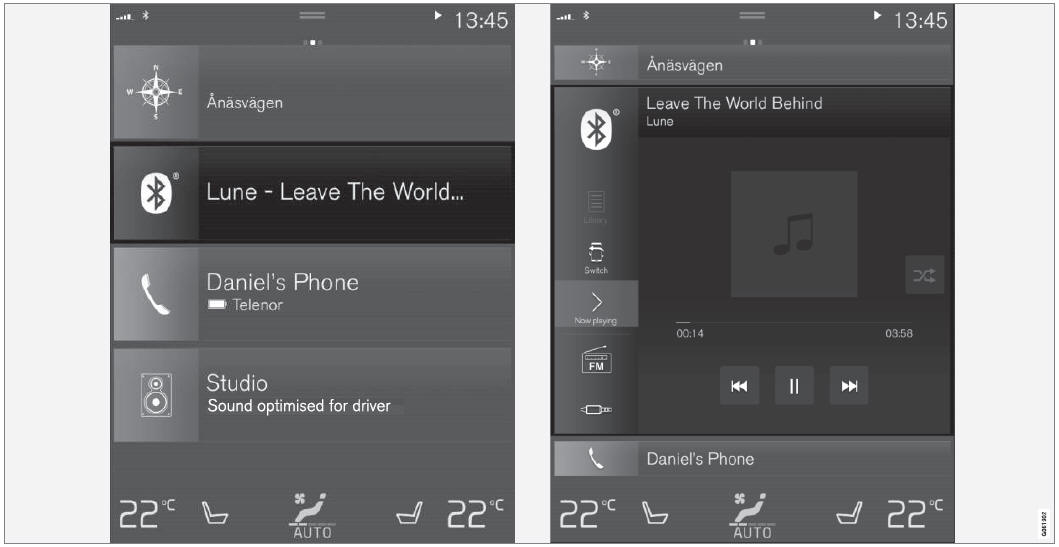 Standard mode and expanded mode of a tile in the center display.
Expanding a tile:
Closing an expanded tile:
The tile can be closed in three different ways:

Tap the top section of the expanded tile.
Tap another tile (it will then be opened in expanded mode instead).
Press briefly on the Home button under the center display.
Opening or closing a tile in full-screen mode
The fourth tile1 and tile for Navigation can be opened in full-screen mode to show additional information and possible settings.
When a tile is opened in full-screen mode, no information from the other tiles is displayed.

In expanded mode, open the app in full-screen mode. Tap the symbol.

To return to expanded mode, tap the symbol or press the Home button under the screen.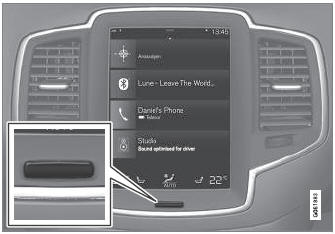 Center display's home button.
You can always press the Home button to return to Home view. To return to Home view's standard view from full-screen mode, press the Home button twice.
1 Does not apply to all apps or vehicle functions opened via the fourth tile.
There are five different basic views in the center display: Home view, Top view, Climate view, App view and Function view. The screen is automatically activated when the driver's door is opened...
Function view, which is one of the center display's basic views, contains all of the vehicle's function buttons. From the Home view, navigate to Function view by swiping from left to right over the screen1...
Other information:
The instrument panel displays information related to the vehicle and driving. The instrument panel contains gauges, indicators and monitoring and warning symbols. What is shown in the instrument panel varies depending on the equipment, settings and functions currently active...
..