Volvo XC90: Displays and voice control / Opening contextual setting in the center display
Most of the settings for the vehicle's basic apps can be changed directly in Top view in the center display via contextual settings.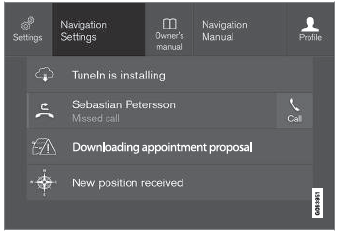 Top view with button for contextual settings.
Contextual setting is a shortcut for accessing specific settings related to the active function displayed on the screen. Apps that are factoryinstalled in your vehicle, e.g. FM radio and USB, are part of Sensus and are used to control the vehicle's integrated functions. The settings for these apps can be changed directly via contextual setting in Top view.
When contextual setting is available:
Pull down Top view when an app is in expanded form, e.g. Navigation.
Tap Navigation Settings.

The navigation settings page will open.

Change the desired settings and confirm.
Tap Close or press the Home button under the center display to close Settings view.
Most of the vehicle's basic apps have this contextual setting option, but not all.
Third-party apps
Third-party apps are apps that are not factoryinstalled in the vehicle's system, but can be downloaded, e.g. Volvo ID. Settings for these apps are changed in the apps themselves, not in Top view.