Volvo XC90: Displays and voice control / Opening contextual setting in the center display
Most of the settings for the vehicle's basic apps can be changed directly in Top view in the center display via contextual settings.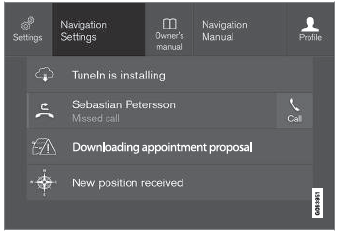 Top view with button for contextual settings.
Contextual setting is a shortcut for accessing specific settings related to the active function displayed on the screen. Apps that are factoryinstalled in your vehicle, e.g. FM radio and USB, are part of Sensus and are used to control the vehicle's integrated functions. The settings for these apps can be changed directly via contextual setting in Top view.
When contextual setting is available:
Pull down Top view when an app is in expanded form, e.g. Navigation.
Tap Navigation Settings.

The navigation settings page will open.

Change the desired settings and confirm.
Tap Close or press the Home button under the center display to close Settings view.
Most of the vehicle's basic apps have this contextual setting option, but not all.
Third-party apps
Third-party apps are apps that are not factoryinstalled in the vehicle's system, but can be downloaded, e.g. Volvo ID. Settings for these apps are changed in the apps themselves, not in Top view.
You can change settings and information for many of the vehicle's functions via the center display. Open Top view by tapping the tab at the top of the screen or by dragging/swiping from the top of the screen downward...
Resetting user data when the vehicle changes owners If the vehicle changes owners, all user data and system settings should be reset to factory defaults...
Other information:
The antennas for the keyless start system and keyless locking system* are integrated in the vehicle. Location of the antennas: Under the cup holder in the front section of the tunnel console In the upper front section of the left-side rear door1 In the upper front section of the right-side rear door1 In the center of the rear seat backrest1 WARNING Individuals with an implanted pacemaker ..
Volvo respects and safeguards the personal privacy of everyone who visits our websites. This policy refers to the handling of customer data and personal information. The purpose is to give current, past and potential customers a general understanding of: The circumstances in which we collect and process your personal data. The types of personal data we collect. Why we collect your personal ..