Volvo XC90: Driver support / Selecting and activating Adaptive Cruise Control
(Depending on market, this function can be either standard or optional.)
Adaptive Cruise Control (ACC1 ) must first be selected and then activated before it can regulate speed and distance.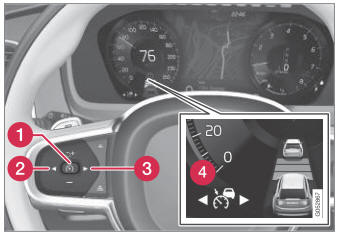 To start the function:
The driver's seat belt must be buckled and the driver's door must be closed.
There must be a vehicle ahead (target vehicle) within a reasonable distance or your vehicle's current speed must be at least 15 km/h (9 mph).
Press the (2) or (3) button on the steering wheel keypad and scroll to the Adaptive Cruise Control symbol (4).

Gray symbol – Adaptive Cruise Control is in standby mode.

When Speed Limiter is selected, press (1) on the steering wheel keypad to activate.

White symbol – Speed Limiter starts and the current speed is stored as the maximum speed.
Reactivating Adaptive Cruise Control to the last stored speed
When Adaptive Cruise Control is selected, press on the steering wheel keypad to activate.

The Cruise Control marking in the instrument panel will change from GRAY to WHITE and the vehicle will then return to the most recently set speed.
WARNING
A noticeable increase in speed may follow when the speed is resumed with the steering wheel button.
1 Adaptive Cruise Control