Volvo XC90: Displays and voice control / Symbols in the center display status bar
Overview of symbols displayed in the center display status bar.
The status bar shows current vehicle activities and in certain cases, also their status. Due to the limited space in the status bar, not all symbols will be displayed at all times.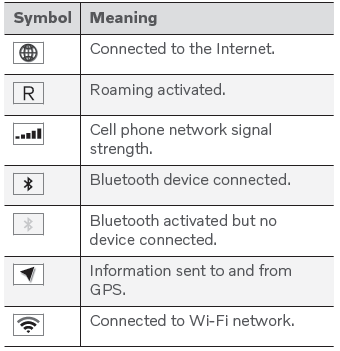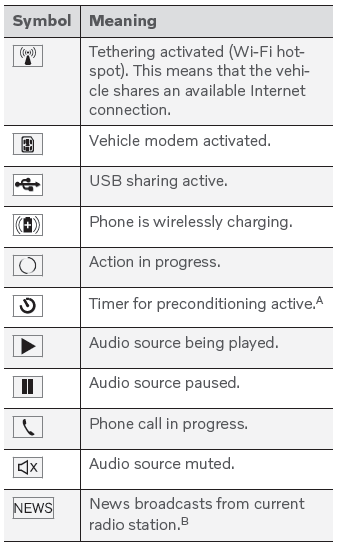 A Only hybrid models.
B Not available in all markets.
The apps and buttons for vehicle functions can be moved and organized in the App and Function views. Swipe from right to left1 to access App view or swipe from left to right1 to access Function view...
You can use the keyboard in the center display to enter characters or to switch to handwriting mode to "write" letters and characters on the screen. The keyboard can be used to enter characters (letters, numbers, symbols, etc...
Other information:
On our website, click the "Owner" tab in the upper left-hand side of the screen and then click on the heading "Recall Information". Enter the vehicle identification number (VIN), which can be found at the bottom of the windshield. If your vehicle has any open Recalls, they will be displayed on this page...
(Option/accessory.) (Warning of collision from the rear.) In some situations, it may be difficult for Rear Collision Warning (RCW) to warn the driver of a collision risk. This may be the case if: the vehicle approaching from the rear is detected at a late stage the vehicle approaching from the rear changes lanes at a late stage a trailer, bicycle holder or similar is connected to the vehicle'..