Volvo XC90: Key, locks and alarm / Unlocking the tailgate using the remote key
The remote key can be used to unlock the tailgate while keeping the rest of the vehicle locked.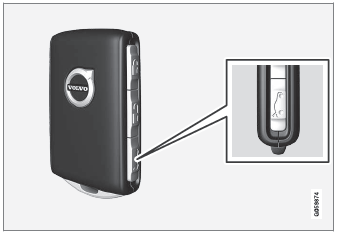 Press the button on the remote key.

The tailgate will be unlocked but remain closed.

The side doors remain locked and armed. The lock and alarm indicator on the dashboard will go out to indicate that the vehicle is no longer fully locked.

Press lightly on the rubberized pressure plate under the tailgate handle to open the tailgate. If the tailgate is not opened within 2 minutes, it will be relocked and the alarm armed.

With the optional power tailgate* -

Hold and press (about 1.5 seconds) the button on the remote key

The tailgate will unlock and open. However, the side doors will remain locked and armed.
* Option/accessory.
Several different sequences are available for remote unlocking. To change this setting: Tap Settings in the center display's Top view. Tap My Car Locking Remote and Interior Unlock...
In order to function correctly, the remote key must be within a certain distance from the vehicle. Manual use The remote key's functions for e.g. locking and unlocking, which are activated by pressing or , have a range of approx...
Other information:
(Option/accessory) Road Sign Information (RSI1) functionality may be reduced in certain situations. The function could have reduced functionality due to e.g.: faded road signs signs located in a curve in the road twisted or damaged signs signs positioned high above the road fully/partially obstructed or poorly positioned signs signs partially or fully covered by frost, snow and/or dirt di..
The type approval for the vehicle's radar units for adaptive cruise control* (ACC1), Pilot Assist* and BLIS*2 are found here. This device complies with Part 15 of the FCC Rules and with Industry Canada licenseexempt RSS standard(s). Operation is subject to the following two conditions: (1) This device may not cause harmful interference, and (2) This device must accept any interference received,..